INDUSTRY UPDATE – JANUARY
We've hit the ground running in January! Great to see everyone is refreshed and ready for a new year of opportunities. Since there is always so much going on in our industry we can't cover everything, but we've got a few highlights of the month for you. This month we'll cover taking a stand against ageism, a boost to the Aged Care workforce, you can find out which state has the oldest population and understand the true cost of caring for someone with dementia.
Fighting Ageism
A campaign to tackle ageism in Australia has launched! The EveryAGE Counts campaign has been launched by The Benevolent Society following their research into the drivers of ageism in Australia. In their research they found that ageism is a growing problem and needs to be addressed in order to counteract the negative impacts on the health and well-being of our society. We think this is a Remarkable idea, and you can find out more about it here: http://www.everyagecounts.org.au/
If you're tech-savy and enjoy using social media you can use the hashtag #EveryAGECounts to show your support for this great campaign!
Workforce Boosting Initiatives
The Government has announced the groups who will undertake the Booting the Local Care Workforce Program, which will supply $33 million to deliver this program. Ernst & Young will partner with not-for-profits and employment services to support providers to expand their workforce to meet the growing needs of the Disability and Aged Care sectors.
Tasmania – Australia's Oldest Population!
Tassie has been found to have the highest median age of all the states and territories in Australia. The median age in Tasmania was 42 years old in 2017 compared to an Australian wide average of 37 years. This median age has increased by 7 years since 1997. Is Tasmania just a better place to age? Well part of the reason for the rapid increase has been an outflow of young adults from Tasmania to other Australian states and territories. However, with the first dementia village in Australia being launched in Tasmania it is looking like an attractive place to age!
Find the stats about Australia's population here or check out the dementia village here.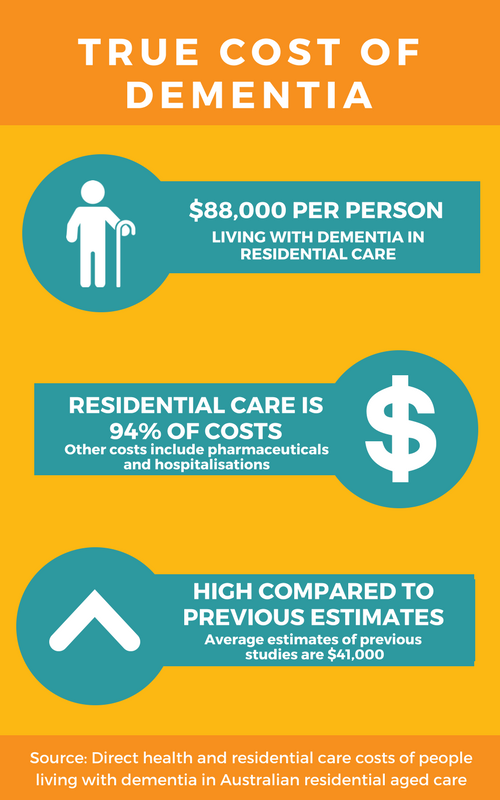 The True Cost of Dementia
The research undertaken by Flinders University looks into the annual cost of health and residential care for individuals living with dementia in residential care. This study was undertaken with data collected from 541 individuals in 17 Aged Care Facilities across Australia. You can find our handy infographic below which highlights the main findings of the study.
The results were published in the International Journal of Geriatric Psychiatry which if you're interested in giving it a read you can find it here.
That's all for this month but check back in with us next month for another update!
KELLY FAWCETT – INDUSTRY & ECONOMIC SPECIALIST


Author
Join the conversation and share your thoughts below