INDUSTRY UPDATE – NOVEMBER
Another month goes by and the Aged Care industry continues to change! This month on Industry Updates you will hear about the growing problem of homelessness among ageing Australians, a workforce taskforce, gap years and a consumer questionnaire for evaluating quality care.

Ageing and Homelessness – The Problem is Growing
A report released by Mission Australia has highlighted the growing problem of the increased number of people at risk of ageing into homelessness. The report highlighted that older women are particularly vulnerable as they rent more than men in the same age bracket (65+), and sought more help from specialist homelessness services in 2015-2016. Women are also particularly at risk due to the wage-gap, taking time off work to be a carer and lower superannuation at retirement (47% less superannuation than men at retirement – Senate Economics Reference Committee 2016).
Mission Australia have provided their proposed solutions to the problem in this report – which includes providing funding for the delivery and operation of Aged Care Facilities that support those that have experienced or are at risk of experiencing homelessness, as well as preventing premature entry to Aged Care by providing supported accommodation. Find out more information here.
Infographic source: Mission Australia, https://www.missionaustralia.com.au/news-blog/news-media/mission-australia-report-shows-homelessness-is-a-growing-concern-for-older-australians
Aged Care Workforce Taskforce Membership Announced
The membership of the taskforce was announced on the 1st of November. A taskforce sounds a bit GI Joe – but don't worry, no covert operations here – this taskforce will be looking into the Aged Care workforce. Their mission and luckily they have chosen to accept it: develop strategies to grow and sustain the Aged Care workforce. The people: a range of industry representatives, Government and consumer representatives. As we know, Aged Care is a booming industry and the Productivity Commission estimates the Aged Care workforce will need to quadruple by 2050 to support demand, so we really are in need of strategies to grow and retain the workforce (Productivity Commission Inquiry Report – Caring for Older Australians, 2011).
There has been some contention over the membership of the taskforce. The Australian Nursing and Midwifery Federation believes that nurses and care workers have been excluded from the taskforce who could provide key insights into the minds of the workers who they are trying to grow.
Check out the full list of members here.
Gap Years for the Ageing!
Gap years are now not just for the youthful backpacker, but also for those approaching retirement age! Ken Wyatt MP announced his idea in a speech to the Press Club. The idea is it would give people a chance to volunteer, part time work, travel and become grey nomads! What would you like to do on your ageing gap year? Perhaps volunteering in Aged Care is a worthwhile way to spend your time, to help build a system you'll probably end up using! As Ken Wyatt MP so eloquently said 'Ageing is everyone's business'.
See Ken Wyatt MP's speech here. There's a lot more to it than just ageing gap years, but we thought this one sounds excellent.
Quality Care Questionnaire
A questionnaire for measuring a consumer's perspective of quality of care has been developed by Flinders University's Investigating Services Provided in the Residential Care Environment for Dementia (INSPIRED) team and funded by National Health and Medical Research Council (NHMRC) Cognitive Decline Partnership Centre. Its creators suggest it can be used to evaluate interventions or innovations in care used by a Provider or to provide a national benchmark for quality care from a consumer's perspective. This comes shortly after the 'Review of National Aged Care Quality Regulatory Processes' suggested that Aged Care requires a star rating for consumers to be able to evaluate potential Facilities effectively. This may be just what they were hoping for! This comes in addition to many other quality of life and care indicators that are currently being used in Aged Care, such as the ASCOT, which measures an individual's social care-related quality of life. Great to see a movement in the industry towards measuring outcomes effectively to provide better care and support!
Read the study for the questionnaire here (it is lovingly called the Consumer Choice Index-6 Dimension).
Read more about the ASCOT here.
That's it! Check back in next month for more updates!
KELLY FAWCETT – INDUSTRY & ECONOMIC SPECIALIST


Author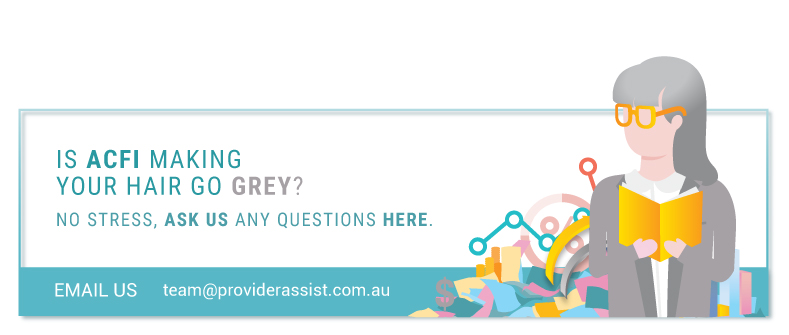 Join the conversation and share your thoughts below