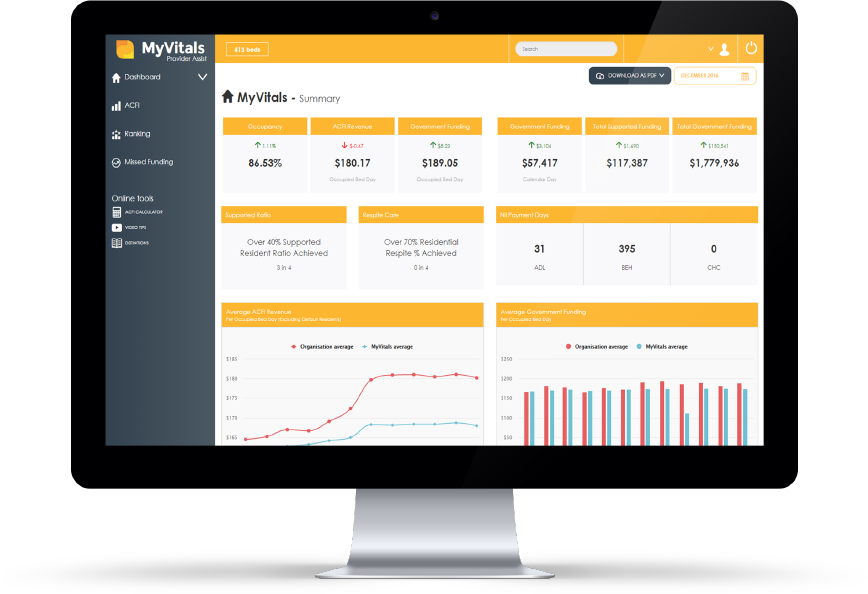 MyVitals
(Complimentary)
MyVitals is our fully-automated reporting and benchmarking system to assist with your claiming. It provides your Organisation with visibility into current and potential income and most importantly, it provides actionable data you can use to make Facility-transforming decisions. Right Now MyVitals users have access to some additional complimentary AN-ACC Reports & Analysis and education by request:
AN-ACC Financial Impact Analysis – deeply explores how your ACFI to AN-ACC transition will impact funding
AN-ACC Benchmarking – Compare your Organisation against almost 40,000 beds
Pain Management Program Evaluation
Introduction to AN-ACC Education
MyVitals Platinum
Powerful Reporting and Workflow Software that provides actionable insights and data about your Organisation's performance in revenue and workflow activity that drives revenue. It ensures you have complete transparency into your performance now and over time.
Benchmark against the largest Aged Care Benchmark in Australia
Manage your Assessment, ACFI, AN-ACC and Evaluation workflows
Priority List of Resident Assessments based on AN-ACC Reassessment triggers, Care Evaluation Workflow inputs & our unique algorithms based on over 30,000 Assessments
AN-ACC Transition
It's important that the information you're relying on moves at the speed you need to through this transition. Although MyVitals will go under significant rebuilds for AN-ACC, it's important you have transparency now. So right now, as well as the MyVitals platform, get access to your:
AN-ACC Transition Reports & Dashboards
Priority lists for AN-ACC Reclassification
Care Minute Target Transition Reporting
Get started by filling in the form below and someone from our team will be in touch shortly.