AN-ACC is set to be the new Care Funding tool from 1 October 2022 (depending on a whole range of factors that could delay this, such as the impacts of COVID-19). Keep an eye on our FAQ article where we post all new information as we receive it. 
So, what is it?
AN-ACC is a Casemix Classification tool. All Residents will be allocated a classification of 1 to 13, which will determine the funding. AN-ACC is a 2 tier payment system, comprising of: 
A fixed payment per day for costs of care shared by Residents.
A variable payment per day, for the cost of individual care needs for each Resident based on their: 
AN-ACC Casemix class (will be determined by the Shadow Assessment Period; and 
An initial 'one-off adjustment' payment for each new Resident, to cover any costs with settling in a new Resident entering Residential Aged Care. Indications from Department information are that this is likely to be 5 x NWAU (National Weighted Activity Unit) but this is yet to be confirmed.
In the 2022-2023 Budget Announcement, the Australian Government released the AN-ACC Funding model starting price as $216.80. The assumption has been made that the starting price refers to the value of the NWAU.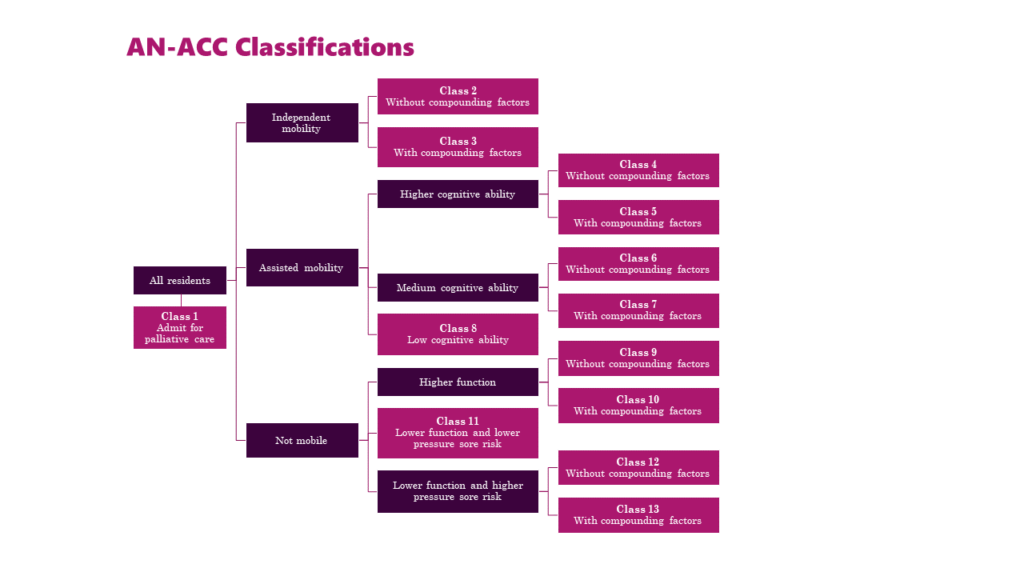 The AN-ACC Assessment is based on:
Resident interviews 
Observation (including of care activities) 
Clinical documentation 
So very similar to the way ACFI validation currently occurs – see:
This means it will be critical to focus on the areas of: 
Assessment and documentation 
Team training and education 
Resident care understanding and acceptance 
External Assessors
AN-ACC Assessors will visit your Facility and assess your Residents using this assessment tool. 
Rather than them completing a comprehensive clinical assessment, they will use your clinical documentation, Resident and carer observation and interview to compile the assessments. This means that you have a significant opportunity to influence your funding and make sure you're receiving your entitlements – this is not the AN-ACC Assessor's responsibility.    
They will submit the assessment results into the assessor portal. The Department's system will use its algorithms to allocate a classification. The Department has indicated they DO NOT intend to release these algorithms and the AN-ACC Assessors are not privy to this information.  
Once a classification as been assigned, the following formula determines your funding:  
 Funding will be based on this formula: