Are you prepared for AN-ACC?
AN-ACC is a new funding tool – that on a quick look, might look like it takes control away from the Provider when it comes to funding. Of course this is not true – it's just that compared to ACFI, things are done a little differently.
We've broken that down for you in our AN-ACC Clinical Preparedness Analysis Report – it is jam packed with AN-ACC Education to brush up on your knowledge, and then we run the analysis over your Residents to identify opportunities to secure your entitled funding when AN-ACC begins.
Here's a little preview:

Prepare Remarkably, Transition Remarkably!
To join our AN-ACC Analysis Reporting series or to specifically request the AN-ACC Resource Allocation Analysis report – call or email us on 1300 419 119 or team@providerassist.com.au.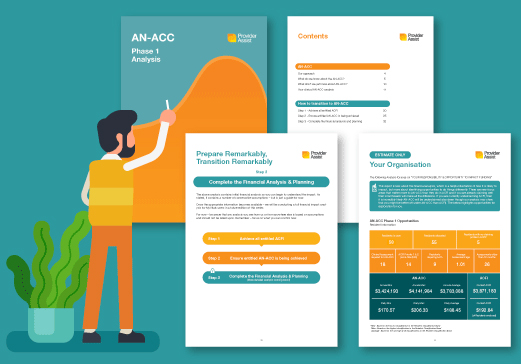 Not sure how to prepare for AN-ACC?
Receive your AN-ACC Transition Analysis report – full of education, tools and analysis of your current residents.